Sax Lab
with Emiliano Vernizzi (IT) and Peter Fraize (US)
«Each one of us, and each one of you, plays in a different way.
As a teacher, I want to enhance your musical personality.»
Emiliano Vernizzi has always loved learning from multiple teachers and musicians. He is really fascinated by the different perspectives which can give you a wide variety of expertise. This is the starting point of his teaching philosophy.
The first thing he does when he meets a new student is listen carefully to the musician he has in front of him, and understand his or her musical personality. Only after that point he chooses the teaching approach that works best.
During the Sax Lab, you will work together with Emiliano Vernizzi on your technique, on your style, on your repertoire, taking advantage of the great technology that is at your disposal in the OmniaMusica Recording Studio. You will record and video-record you when you play or practice, so that you will be able to watch your performance over and over , and you will learn to keep every aspect of your playing under control.
All the video recordings will be part of your portfolio: you can keep them, and proudly use them as a professional demo.
By working with Emiliano at Sax Lab, and by taking part in other courses with the Study Abroad Program Your Music Lab, you will also gain experience in a professional recording studio. This is a incomparable asset for your career! And you will connect with many other students and international professional musicians in Italy: all of them will be part of your professional network.
For some of you there will also be the possibility of performing onstage with some of the best Italian musicians: a real professional experience, but with a safety net.
«The path to become a professional musician is indeed exciting, but also not easy or predictable.
With my experience I am committed to serve the young music students, who aim to become professionals!»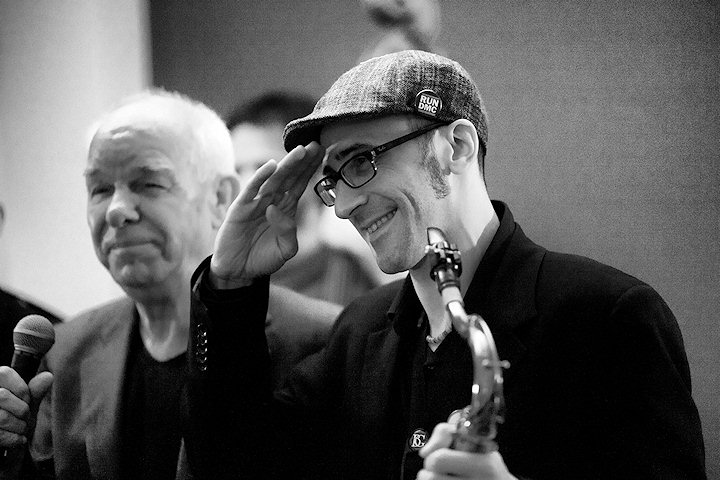 An across-the-border saxophone player
He has been in New York for many years, where he has started playing with Izzy Zaidman's band, among many others. They recorded 4 albums together, and toured the US and Europe with hundreds of concert.
He has also performed with great international musicians, including Eddie Daniels, Evan Parker, David Murray, Paolo Fresu, Enrico Rava, Bobby Durham, Franco Cerri, Paul Jeffrey, Tommy Campbell, Fabrizio Bosso.
In Italy he has also collaborated with pop and rock stars, live and on TV shows. He performed in front of a hundred fifty thousand people with Luciano Ligabue, one of the most popular Italian songwriters.
In 2007 he co-funded the project Pericopes, which has received many important awards, recorded 6 albums, and performed in Europe and the US, with great acclaim from international critics.
Today his work is divided between concerts, the recording studio, composition, production, and teaching.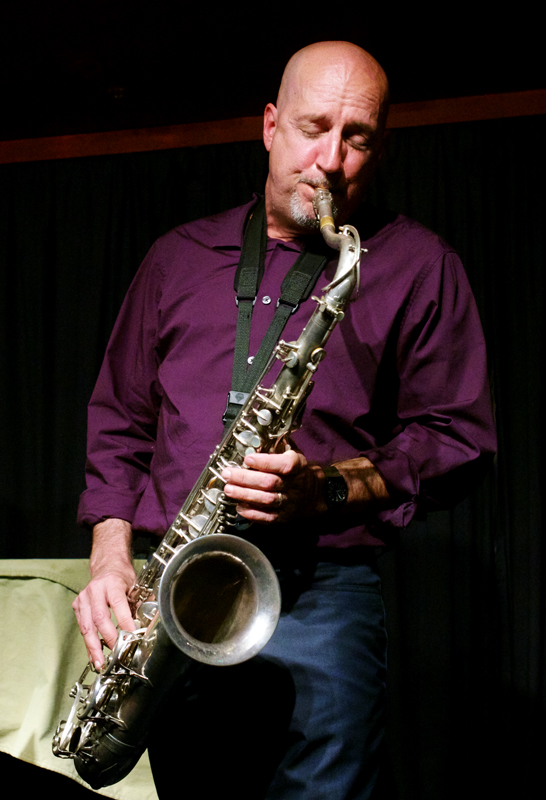 Saxophonist, composer, arranger, jazz educator
Peter Fraize has been teaching at the George Washington University for the past 25 years, where he has served as Director of Jazz Studies since 1997.
He grew up near Washington, DC. His parents were both musical, and he played his first professional gigs at age sixteen. After high school, he attended the New England Conservatory of Music in Boston, primarily to study classical music, even though his passion was jazz.
He later transferred to the Royal Conservatory in The Hague, The Netherlands.
While there, he had the privilege of studying with Dutch saxophonist Leo van Oostrom, and the late, great  jazz tenor legend Sal Nistico.
He also had the opportunity to perform with many different kinds of groups at venues in Western Europe, from tiny jazz clubs, to major festivals, to 15K-seat arenas.
After graduation, he returned home to Washington, DC where he established himself as a bandleader.
Over the years, he has led and recorded with a variety of different groups. He has also co-led a group and released 3 CDs with italian free-jazz trombonist Giancarlo Schiaffini, and currently is involved in a trans-Atlantic project with British jazz organist Terry Seabrook.
As a sideman, he has performed, toured and recorded with rock bands, brazilian groups, jazz groups from mainstream to avant-garde, and even with a country/folk/bluegrass band.
Throughout his career, diversity has played a primary role in his life.  
His goal as a teacher is to guide students towards a complimentary balance between artistry and craftsmanship.