«Another drumming course?» – «No, a totally different story!»
Drumming Lab will allow you to learn or improve your drumming skills, in a top-notch professional studio, with Sandro Ravasini's guidance, and with an entire recording studio at your complete disposal.
Lessons span from individual drum lessons, crafted around your needs and dreams, to special lessons, combined with the studio assets, where you will be video-recorded every time, with professional quality. You will then have the opportunity to keep all of these professional recordings.

Above all you will be able to improve your musical and technical abilities, thanks to the possibility of carefully watching your own performances, and constantly checking your improvements day by day, in what will become your personal video portfolio online, which the studio will create for you.
At the end of this program you will find yourself improved, no matter what your present musical level may be. You will also have a series of professional audio and video recordings of your performances, to keep and share with potential employers.  You will then have the opportunity to perform onstage, with some of the best Italian professional musicians, to widen your musical horizons; all the while, being in a real professional environment, which will allow you, to experience the real deal.
If you are looking for music in your life, this, is your opportunity.
We'll have some serious fun!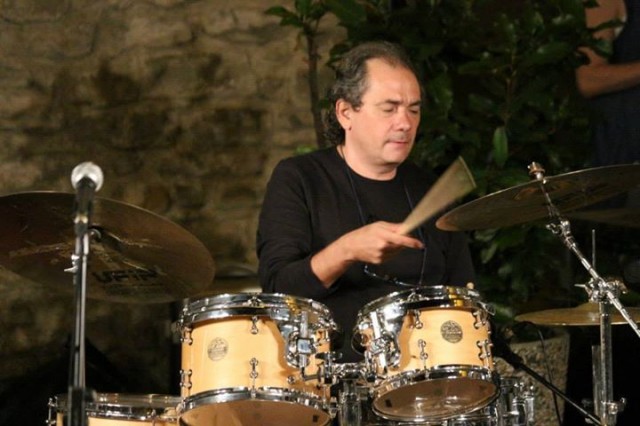 Drummer and educator
Endorser Ufip, Lantec, X-drum

With over 30 years of experience, Sandro Ravasini is one of the most talented and respected drummers and educators in Italy.
He had the great privilege of studying with Enrico Lucchini, unanimously considered among the greatest drummers in Italy and France.
Still very young Sandro Ravasini moved to Boston (US), where he studied with Alan Dawson and Gary Chaffee. He also attended the Berklee College of Music.
He has been a touring musician, and a session musician for more than 30 years. He has played a wide variety of musical genres, but he has always cared about his students, and kept on teaching throughout his entire career.
Sandro has always loved to teach, and to be in contact with young students. He has also published drumming methods with BMG and Carish.